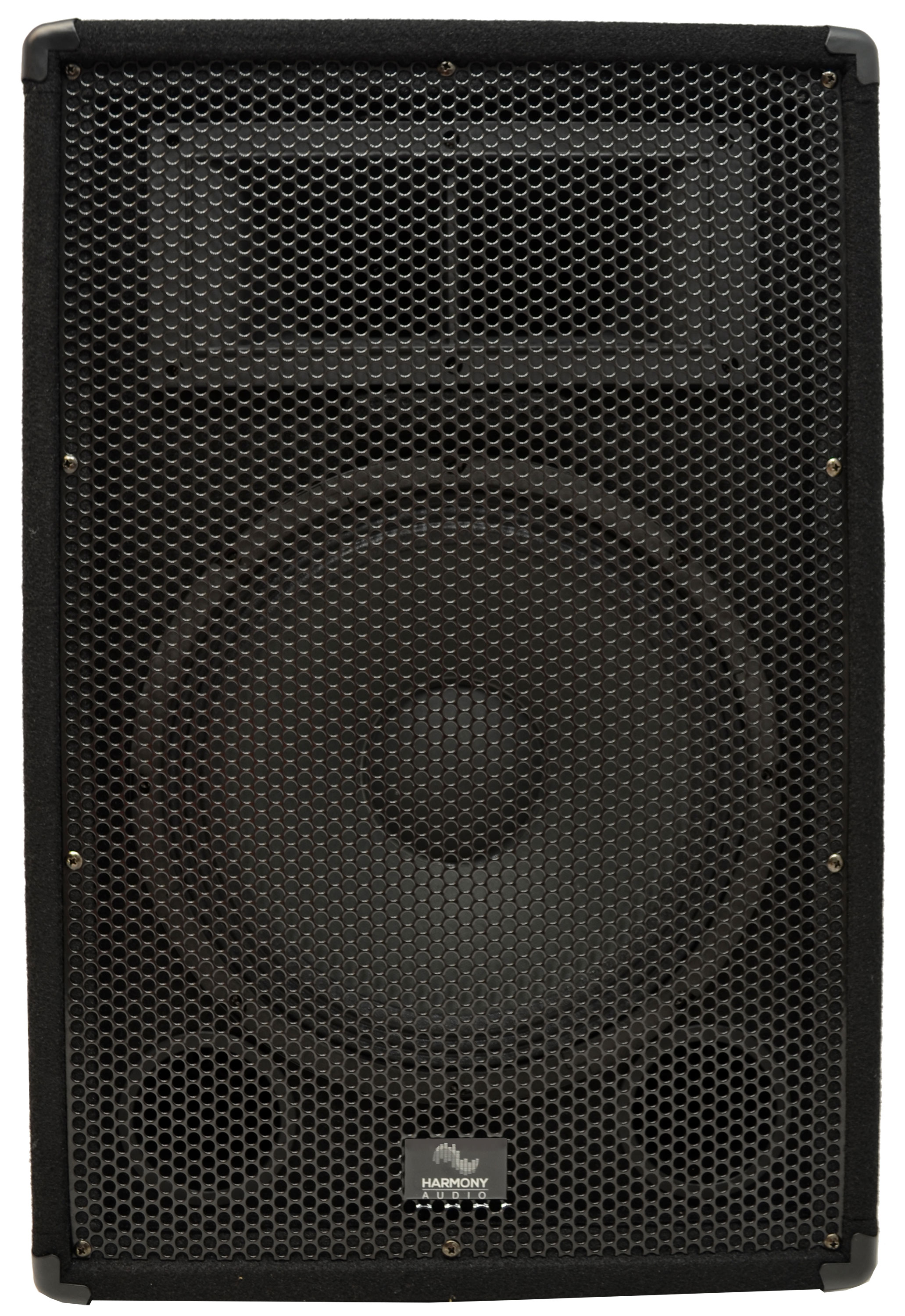 Venue Series
Versatile Speakers For Every Occasion
Harmony Audio Venue Series is our entry line of Pro Audio Speakers. They're designed to make a perfect combination of performance and value and to be everything you need in PAs: loudness, wide coverage angle and efficiency. Utilizing separate amplifier with this 2-way passive speaker combo prevents it from being overheated by the amp. Our versatile terminal with multiple input/output options including direct speaker wire, (2) 1/4" TRS jack and (2) Speakon cable gives you more flexibility in connecting an amp, and the parallel configuration allows you to daisy chain additional speakers if needed and save time on setup since it doesn't matter which of the inputs is used. Available in multiple sizes: 10", 12" and 15".
Durable Everlasting Design
V Series PA Speakers are built to last with its wooden cabinet, thick durable black carpet, deep recessed handles, steel mesh front guard, corner guards and (4) rubber feet. The sturdy construction keeps the party moving and can withstand even the roughest conditions.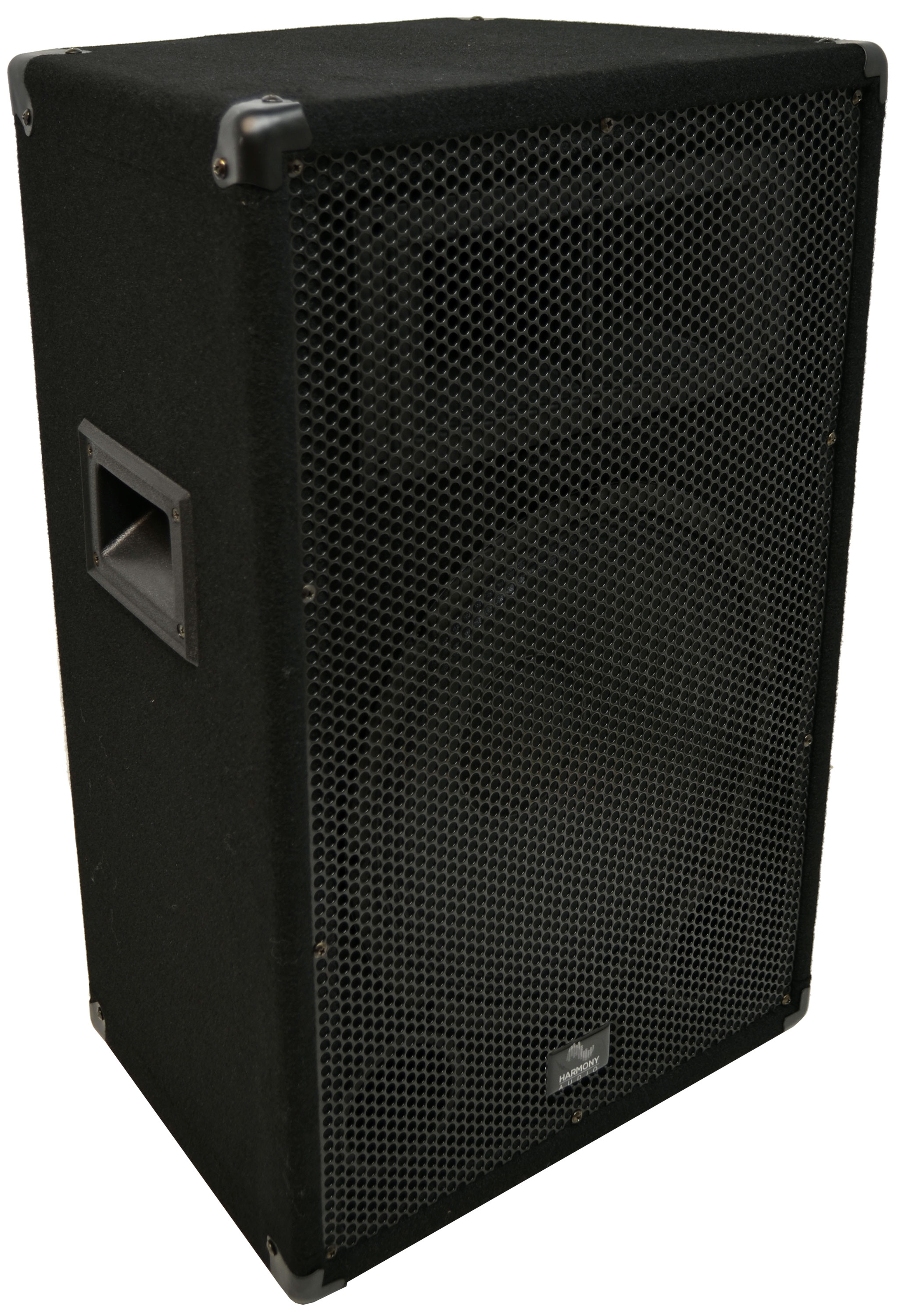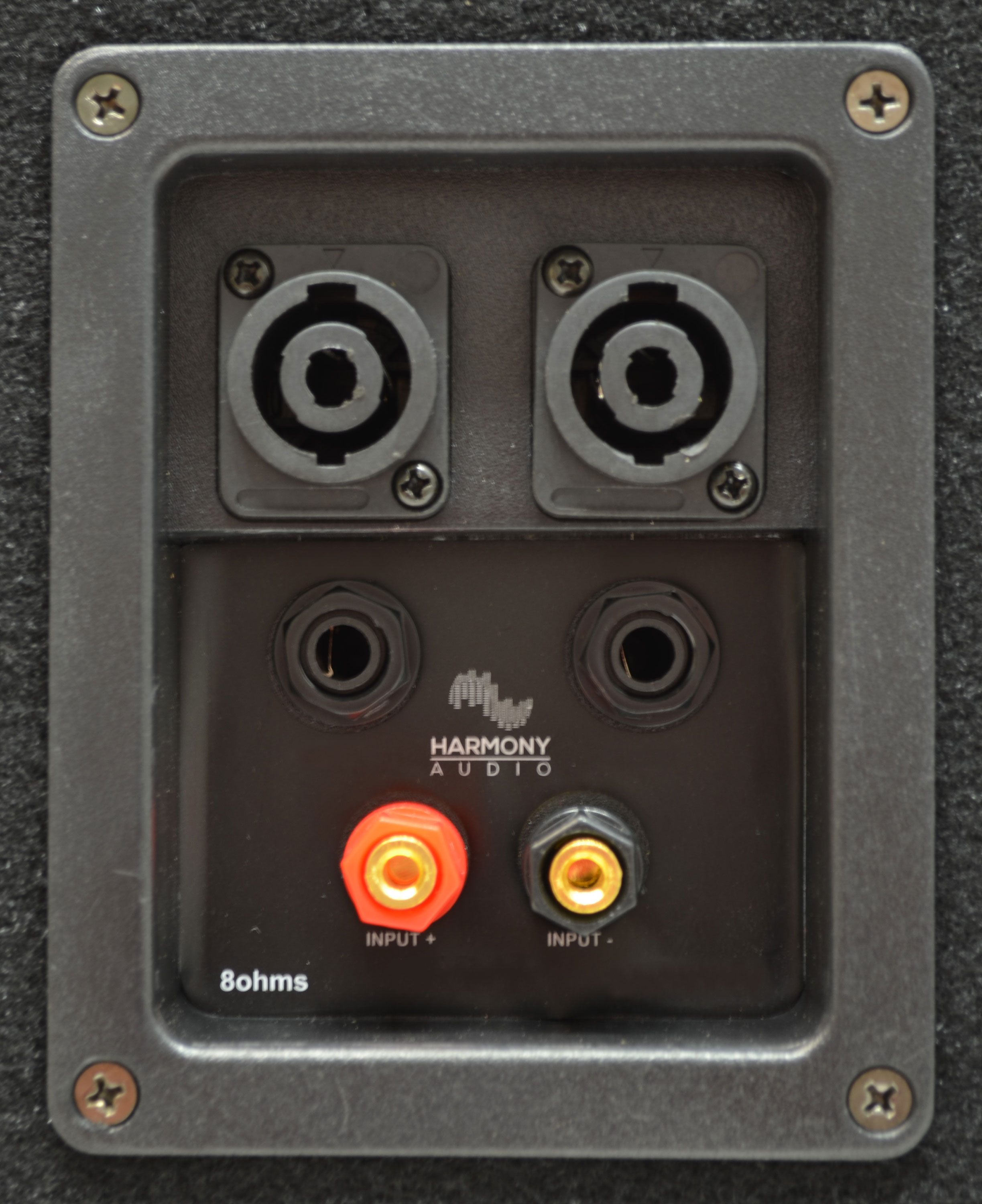 All Harmony Audio PA Speakers have a built in 34mm speaker pole/stand mount which in most cases is the best way to set the speaker up. Venue Series also features a steel metal plate on the bottom and the speaker just slides into place.
Specification

| Model | HA-V10P | HA-V12P | HA-V15P |
| --- | --- | --- | --- |
| Size | 10" | 12" | 15" |
| Power Handling: | | | |
| Peak (watts) | 300W | 450W | 900W |
| RMS (watts) | 100W | 150W | 300W |
| Sensitivity | 92.3dB | 95.1dB | 92.3dB |
| Frequency Response | 50Hz-18kHz | 45Hz-20kHz | 35Hz-20kHz |
| Tweeter | 3x6" Double Piezo | 3x6" Double Piezo | 5x11" Double Piezo |
| Voice Coil | 8 Ohm | 8 Ohm | 8 Ohm |
| Crossover | Passive | Passive | Passive |
| Inputs/Outputs | Banana, (2) 1/4" Jack & (2) Speakon (All Connections in parallel) | Banana, (2) 1/4" Jack & (2) Speakon (All Connections in parallel) | Banana, (2) 1/4" Jack & (2) Speakon (All Connections in parallel) |
| Enclosure Material | 1/2" HD Plywood | 1/2" HD Plywood | 1/2" HD Plywood |
| Enclosure Finish | High Quality Black Carpet | High Quality Black Carpet | High Quality Black Carpet |
| Built in Recessed Stand Mount | 35mm | 35mm | 35mm |
| Handles | 2 Plastic Recessed | 2 Plastic Recessed | 2 Plastic Recessed |
| | Buy now | Buy now | Buy now |