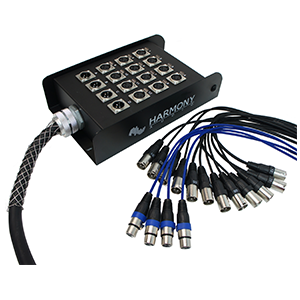 Accessories
We offer a large variety of PA accessories – portable aluminum DJ facades, oxygen free copper XLR, 1/4" Jack and Speakon speaker cables and multi-channel XLR snake cable boxes available in different channel configurations and cable lengths. We have everything you need for your PA System!
DJ Facades
Protect your cables, turntables and other gear behind our sturdy DJ facade. Our portable aluminum facade is very light and weigh only 16lbs including the travel bag. It's also easy to install without need to use tools or hardware, and it includes (4) panels that can be setup in any configuration, and easy-removable stretchable white scrim. Also available in a bundle with fold out portable DJ workstation table.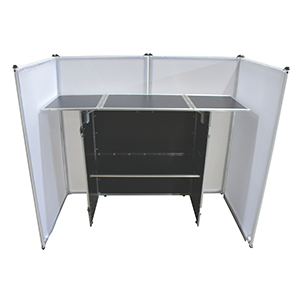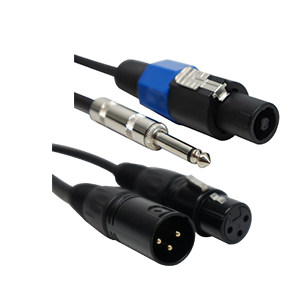 Speaker cables
Harmony Audio speaker cables are made of 100% oxygen free copper and wrapped in high-quality durable PVC material which can dramatically improve your speaker performance and sound quality. 15 feet is a perfect length for an audio cable that will not affect the quality of the sound produced by a system. Multiple cable types are available - XLR, 1/4" Jack, Speakon.
XLR Snake Cables
Simplify setup on stage with our Multi Channel XLR Snake Cables that are available in a wide range of XLR channels (12, 16, 24, 32, 40 channel) and cable length models (25, 50, 100, 150 feet) which are perfect for live sound or studio applications eliminating the clutter with multiple cables runs. All connections are clearly marked on the cable ends with the corresponding info on the box itself making it easier to identify gear. The heavy-duty all-steel construction snake box can withstand even the wildest performances, and we use high-end connectors for both on the input into the box and the transition point from single cable to multi-channels which simply cannot be matched. The XLR cables feature a tough braided nylon jacket constructed from 22 gauge oxygen free copper with a dual-spiral shield for superior noise rejection.