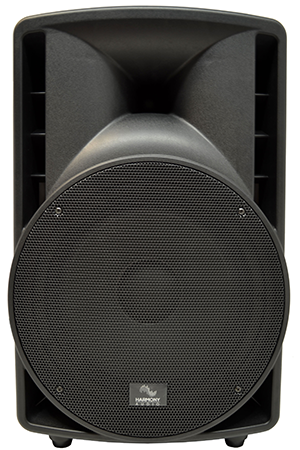 Concert Series
Only What You Need
The world of PA systems is complex and vast, but that doesn't mean you have to get stressed out with all technical specs, components and brand wars in search of a perfect PA set. Our high-powered Concert Series PA Speakers is exactly what you need. No more, no less. The 2-way black plastic molded cabinet includes multi-mixer, large powerful amp, high-performance PA woofer and 1" titanium compression tweeter to deliver excellent sound clarity. Available in 8", 10", 12" and 15" sizes.
The Ultimate Combo
Harmony Audio C Series PA Powered Speaker is called to simplify your PA system with its built-in components. It has an amplifier with an XLR audio out for daisy chaining additional speaker(s) and a large heat sink that keeps the amp cool, a multi-mixer with bass/treble adjustments and independent gain controls for the inputs, a ¼" TRS mic input and XLR / RCA line input for multiple connection options and a switchable 115V / 230 voltage range that allows multiple power options. In addition, a built-in 35mm speaker stand mount with a knob to tighten speaker to the stand will make a set up process faster and easier.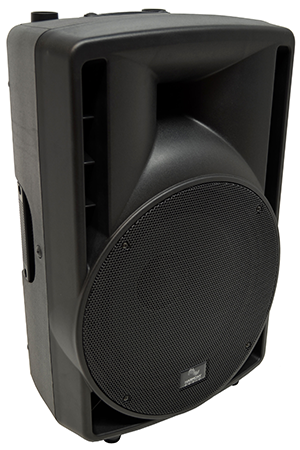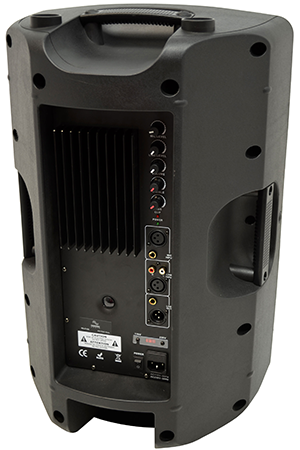 Shock-Resistant Structure
The Concert Series PA Speakers feature molded impact resistant plastic cabinet that absorbs the bumps of the road, a steel mesh woofer guard, (3) heavy-duty handles for easy moving and (4) rubber feet so it can be set onto the floor when not using the stand mount.
Specification

| Model | HA-C8A | HA-C10A | HA-C12A | HA-C15A |
| --- | --- | --- | --- | --- |
| Size | 8" | 10" | 12" | 15" |
| Power Handling: | | | | |
| Peak (watts) | 300W | 400W | 800W | 1000W |
| RMS (watts) | 150W | 200W | 400W | 500W |
| Sensitivity | 93.9dB | 92.3dB | 95.1dB | 95.4dB |
| Frequency Response | 60Hz-20kHz | 50Hz-20kHz | 45Hz-20kHz | 32Hz-20kHz |
| Tweeter | 1" Titanium Compression | 1" Titanium Compression | 1" Titanium Compression | 1" Titanium Compression |
| Voltage Range | 110-230V/AC/50-60 Hz Selectable | 110-230V/AC/50-60 Hz Selectable | 110-230V/AC/50-60 Hz Selectable | 110-230V/AC/50-60 Hz Selectable |
| Crossover | Bass & Treble Adjustments | Bass & Treble Adjustments | Bass & Treble Adjustments | Bass & Treble Adjustments |
| Inputs/Outputs: | | | | |
| Microphone Input | (1) ¼" TRS Jack | (1) ¼" TRS Jack | (1) ¼" TRS Jack & (1) XLR | (1) ¼" TRS Jack & (1) XLR |
| Line Input | (1) Stereo RCA & (1) XLR | (1) Stereo RCA & (1) XLR | (1) Stereo RCA & (1) XLR | (1) Stereo RCA & (1) XLR |
| Line Output | (1) XLR | (1) XLR | (1) ¼" TRS Jack & (1) XLR | (1) ¼" TRS Jack & (1) XLR |
| Enclosure Material | ABS Plastic Impact Resistant | ABS Plastic Impact Resistant | ABS Plastic Impact Resistant | ABS Plastic Impact Resistant |
| Built in Recessed Stand Mount | 35mm | 35mm | 35mm | 35mm |
| Handles | (1) Top (2) Sides | (1) Top (2) Sides | (1) Top (2) Sides | (1) Top (2) Sides |
| | Buy now | Buy now | Buy now | Buy now |