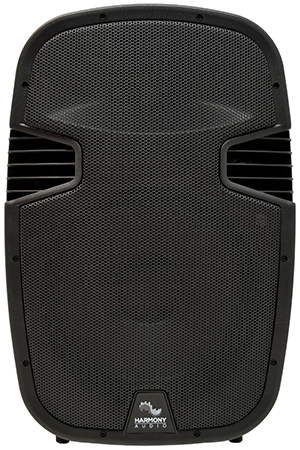 Live Series
All-In-One Media PA Speaker
Harmony Audio Live Series is our top line of speakers which was engineered to be an all-in-one PA speaker solution for the most advanced performers who doesn't want to invest more time, energy, and money into their system than they do into their music. The active multi-mixer has Bluetooth media streaming with an effective range up to about 30 feet; SD Card, USB and FM Radio which can be controlled from the rear LCD display panel or using the included wireless remote control; and, of course, traditional line and mic inputs. The single 2-way powered PA cabinet features a high-quality woofer and a 1.35" titanium compression tweeter which increase the overall speaker's output, frequency range and efficiency.
Powerful and Customizable
The L Series PA Speakers feature a high powered amplifier that combines outstanding performance and multiple mixer input / output options. The 12" and 15" model feature 1000 and 1200 watt peak power handling amp respectively along with an XLR audio out for daisy chaining additional speaker(s). For the limitless customization options, Harmony Audio designed a 5-band graphic EQ and independent gain controls for the inputs. A 1/4" TRS / XLR Mic input and XLR / RCA Line input allows for multiple options depending on the performance the speaker is being used for. A large heat sink keep the amp cool and a switchable 115V / 230 voltage range allows for multiple power options. The amp also features a powered 8 ohm speakon output which can be used to connect an additional passive speaker. The speaker cabinet also has a built-in 35mm stand mount, a molded plastic mount on the bottom and a knob to tighten speaker to the stand for increased stability.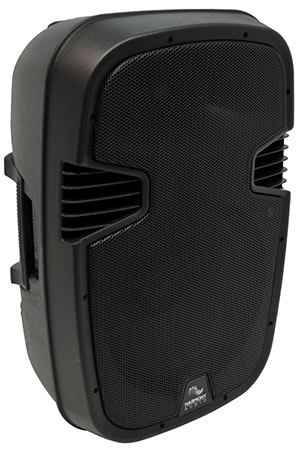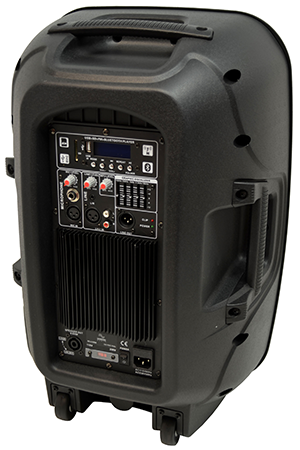 Shock-Resistant Structure
The Live Series Speakers feature molded impact resistant ABS plastic cabinet that absorbs the bumps of the road, a steel mesh front guard, (3) heavy-duty handles and rear skate wheels for easy moving, and (4) plastic feet so it can be set onto the floor when not using the stand mount.
Specification

| Model | HA-L12BA | HA-L15BA |
| --- | --- | --- |
| Size | 12" | 15" |
| Power Handling: | | |
| Peak (watts) | 1000W | 1200W |
| RMS (watts) | 500W | 600W |
| Sensitivity | 93.6dB | 95dB |
| Frequency Response | 45Hz-20kHz | 32Hz-20kHz |
| Tweeter | 1.35" Titanium Compression | 1.35" Titanium Compression |
| Voltage Range | 110-230V/AC/50-60 Hz Selectable | 110-230V/AC/50-60 Hz Selectable |
| Crossover | 5 Band Graphic EQ | 5 Band Graphic EQ |
| Inputs/Outputs: | | |
| Microphone Input 1 | (1) 1/4" TRS Jack & (1) XLR | (1) 1/4" TRS Jack & (1) XLR |
| Microphone Input 2 | (1) 1/4" TRS Jack & (1) XLR | (1) 1/4" TRS Jack & (1) XLR |
| Line Input | (1) Stereo RCA | (1) Stereo RCA |
| Line Output | (1) Stereo RCA | (1) Stereo RCA |
| Powered Speaker Output | 8 Ohm Speakon | 8 Ohm Speakon |
| Media Inputs | Bluetooth Streaming | Bluetooth Streaming |
| | USB | USB |
| | SD Card | SD Card |
| | FM Radio | FM Radio |
| Enclosure Material | ABS Plastic Impact Resistant | ABS Plastic Impact Resistant |
| Built in Recessed Stand Mount | 35mm | 35mm |
| Handles | (1) Top (2) Sides | (1) Top (2) Sides |
| Extra features | Roller Wheels, Wireless Remote Control | Roller Wheels, Wireless Remote Control |
| | Buy now | Buy now |