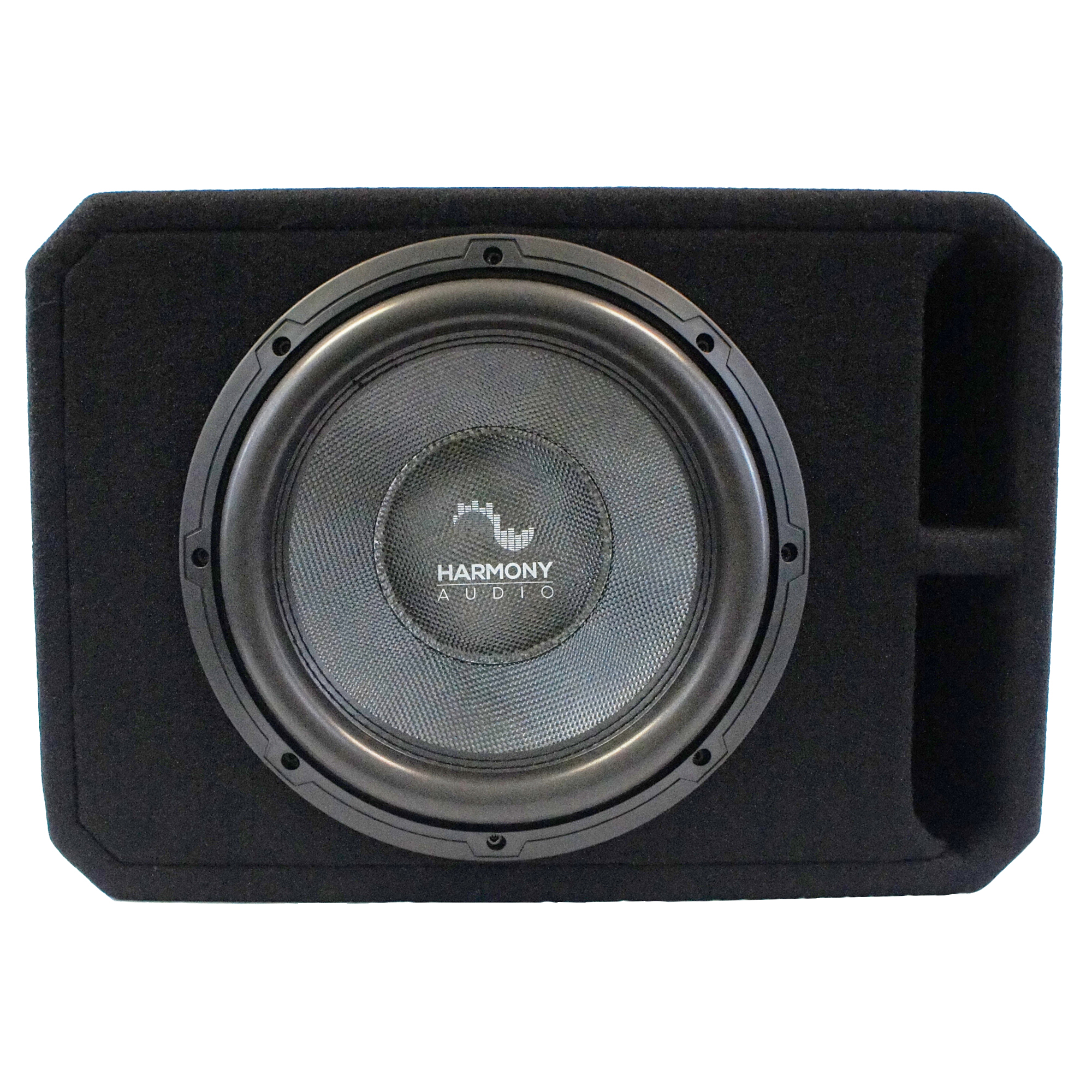 C Series
Carbon The Choice You Won't Regret
The Carbon Series Loaded Sub Box Enclosures are the ideal choice for your daily needs. Woofers have lightweight carbon fiber cones which is one of the strongest and lightest material available. They're much stronger than paper cones or even aluminum, and they have more natural sound. Some of the key features are:
Fiber Lightweight Cone

Stitched High Roll Foam Surround

Tinsel Leads Woven into Spider

Die-Cast Aluminum Basket

High Flux Ferrite Magnet
In addition to rigidness and elegance, Carbon Series subs can handle an enormous power loads. Thanks to the custom designed dual vented port built with the properly calculated volume and tuned to the correct frequency for the subwoofer, these subs will give you goosebumps with it's massive bass.
Ultimate Solution For Your Trunk
Harmony Audio Loaded Enclosures were designed with one thing in mind, big time bass output while being the smallest psychical footprint possible. Ported enclosures are generally more efficient which allows you to use a smaller amplifier and the air flowing in and out of the port help to keep the subwoofer cooler in your trunk, especially during the hot days. High quality MDF wood construction, durable black carpet, embroidered Harmony Audio logo and recessed subwoofer give these subs a great clean look!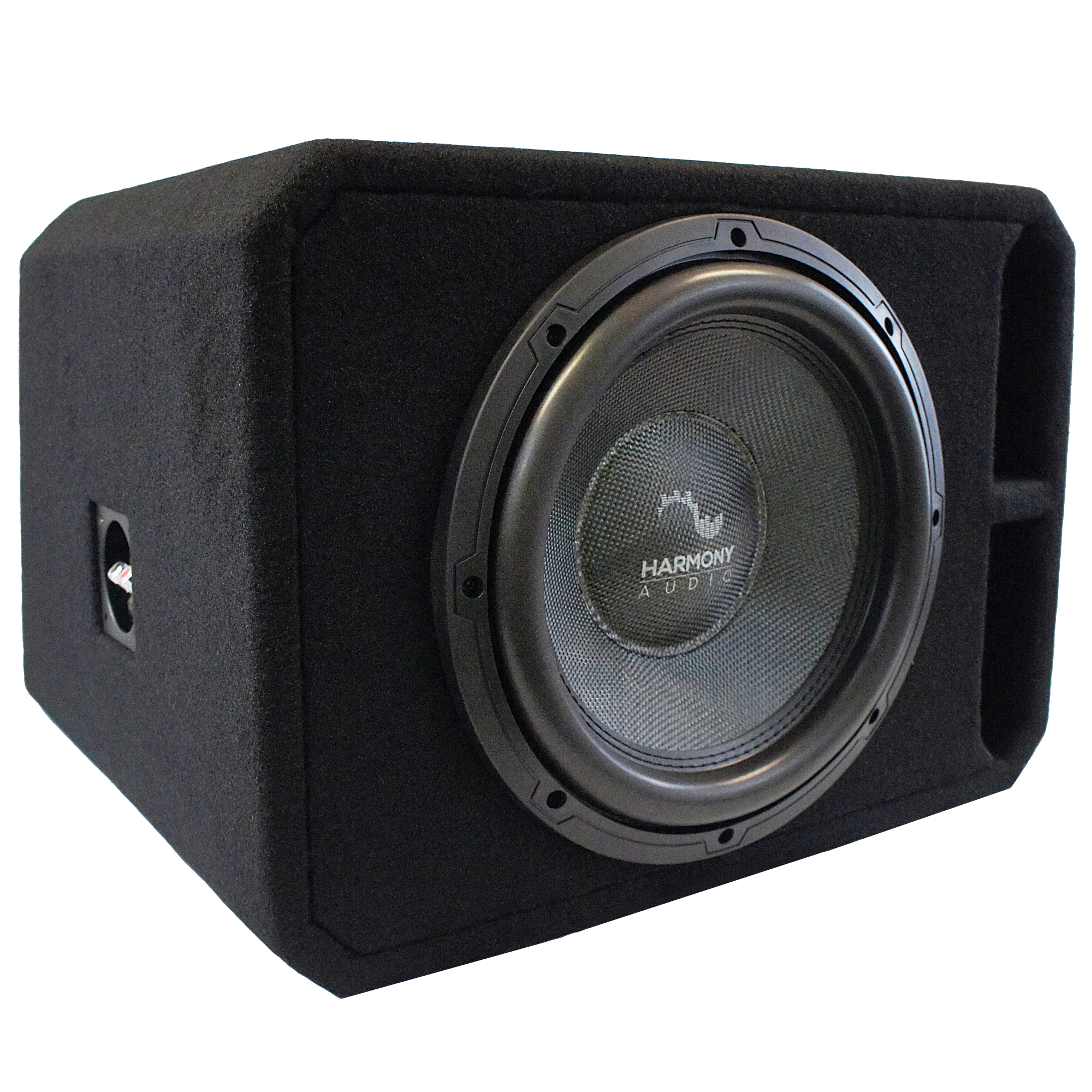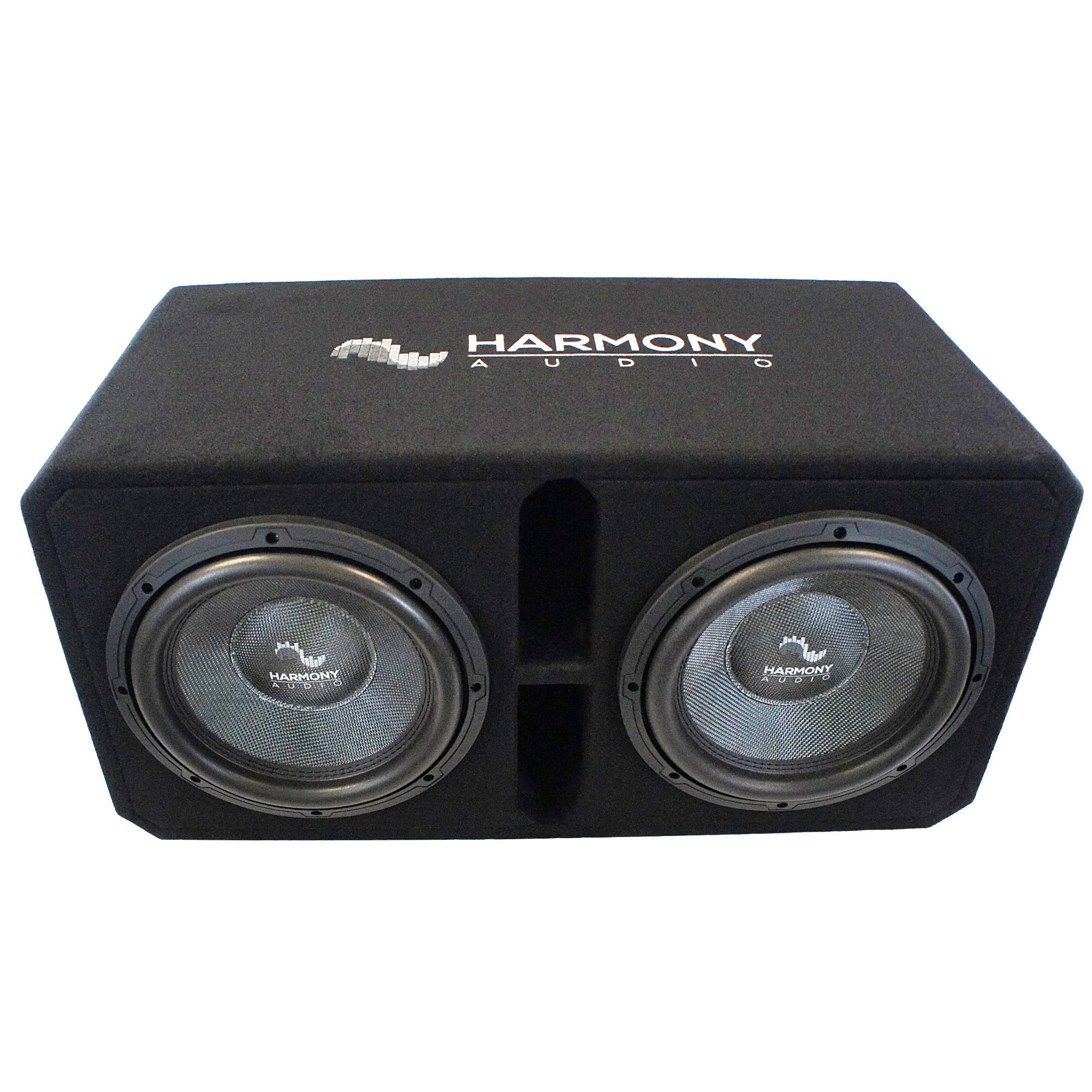 Hassle-Free Connection
The wire terminal is one of the most important features of the sub which handles the power transfer from your amp to the sub. Cheap outdated spade terminals take more time and effort to install and to keep it connected once installed. All Harmony Audio subs feature a spring-loaded push terminal that will accept direct speaker wire ensuring the ultimate connection and power transfer.
Specification

| Model | HA-C1X12D2 | HA-C1X15D2 | HA-C2X12D4 |
| --- | --- | --- | --- |
| Woofer Size (inch) | Single 12 | Single 15 | Dual 12 |
| Impedance @ Terminal Cup (Ohm) | 1 | 1 | 1 |
| Peak Power (watts) | 2200 | 2800 | 4400 |
| RMS Power (watts) | 1100 | 1400 | 2200 |
| Sensitivity (dB) | 88.6 | 89 | 91.6 |
| Enclosure Material | 5/8" MDF Wood | 5/8" MDF Wood | 5/8" MDF Wood |
| Enclosure Port Tuning (Hz) | 33 | 30 | 32 |
| Frequency Response (Hz) | 30-300 | 27-300 | 29-300 |
| Enclosure Dimensions (inch) | 21-5/8 x 14-15/16 x 15-13/16 Top Depth x 18-7/8 Bottom Depth | 23-5/8 x 17-5/16 x 16-15/16 Top Depth x 20-7/16 Bottom Depth | 33-3/8 x 16-3/4 x 15-13/16 Top Depth x 18-7/8 Bottom Depth |
| | Buy now | Buy now | Buy now |